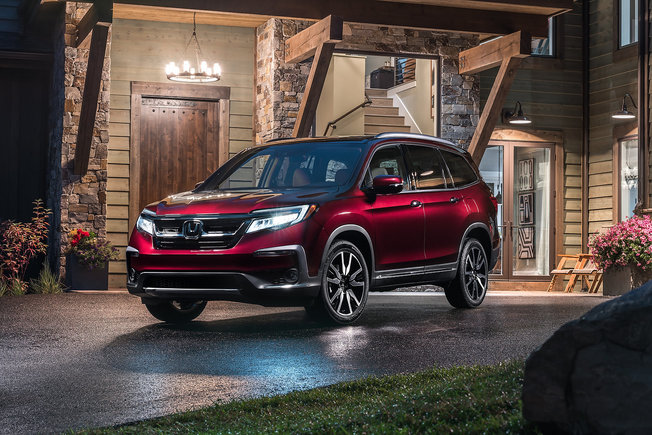 Introducing the new 2019 Honda Pilot, a mid-size three-row SUV that offers more space than any other model in its class. Spacious, refined and luxurious with a set of safety and connectivity features, the 2019 Honda Pilot requires no compromise from its owners.
Powered by a 3.5-liter V6 engine, the Pilot offers 280 horsepower and 262 lb-ft of torque. This reliable and durable engine is powerful enough to ensure confident passing maneuvers and accelerations while also being fuel-efficient.
Yes, the Honda Pilot is a good SUV. Its spacious cabin includes three rows of adult-sized seats (uncommon in the midsize SUV class) and a higher cargo capacity than many competitors. These attributes helped make it a finalist for our 2019 Best 3-Row SUV for Families award. There are also plenty of standard active safety features and an available infotainment system that's improved for 2019. On the road, the Pilot is capable and comfortable, making it easy to drive. However, many class rivals have better predicted reliability ratings – Cars US News
---
We spent a few hours driving the 2019 Honda Pilot Elite on Southern California's twisty roads and highways and noted the changes in the transmission. The shifts happen smoothly and at the right time, although the gearbox is always hunting for the highest gear to enhance fuel economy. That changes when driving in Sport mode, where the engine revs at higher rpms and the shifting can be done using the paddles, which showed no delay. The start-stop system also acts quicker when restarting the engine in Sport mode. – Motor Trend
---
Families will love the available second-row seats that, with one touch, slide to allow easy access to the third row. The newly optional hands-free power liftgate will be important to some shoppers, too. Significantly, the now-standard Honda Sensing system brings a host of active safety features including forward collision warning with automatic emergency braking, adaptive cruise control and lane keeping assist – Cars.com
Contact us today at Lallier Honda Montreal to learn more.