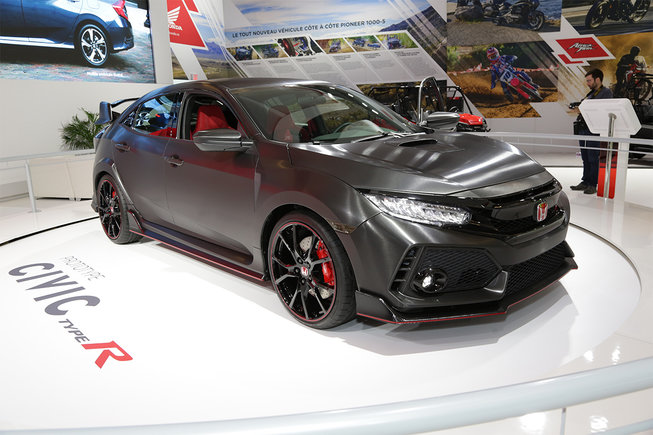 When Honda confirmed that the Honda Civic Type R was finally going to be sold in Canada, car enthusiasts and thrill seekers from coast to coast could only smile. We still have to wait a few more months to finally see the production version of the Type R on our roads, but if you can't get enough of Honda's upcoming pocket rocket, drop by the Montreal Auto Show where Honda is showcasing the Honda Civic Type R Prototype which was originally unveiled in Paris last September.
A realistic version of the Honda Civic Type R
The Honda Civic Type R Prototype shown at the Montreal International Auto Show is not far from the final production version. In reality, many of the design features found on the concept showcased at Honda's booth at the Montreal Auto Show will likely make it to production.
The Honda Civic Type R Prototype features an aggressive, sporty design that immediately tells everyone that is looking that this is a true high-performance vehicle with its huge spoiler, massive black wheels, aggressive aerodynamic package, a three-outlet centrally-mounted exhaust, and red accents everywhere.
An unknown engine for the Honda Civic Type R
Although we know that the Honda Civic Type R will be powerful, we still do not know the exact specifications. The first rumors suggest a turbocharged 2.0-liter engine with more than 300 horsepower, but nothing has yet been confirmed for Honda. Some even claim that the Type R's turbo engine could develop up to 340 horsepower, but once again we will have to wait a little longer before we know more. We do know, however, that the Type R will be equipped with a six-speed manual transmission.
To learn more about the Honda Civic Type R, you can visit the Montreal Auto Show and then drop in today at Lallier Honda Montreal!