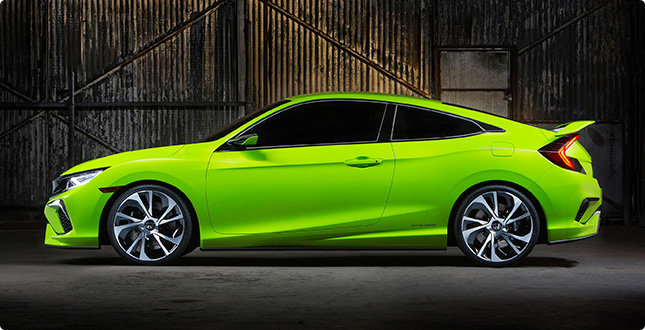 At the last New York International Auto Show, Honda caused a surprise by unveiling a concept of the Honda Civic that announced the 10th generation of the popular compact from the Japanese manufacturer.
The unveiling was even more surprising given the fact the most popular car in Canada for the last 17 years had already been redesigned a few years ago.
But if Honda has achieved this level of success, it is partly due to the fact that the manufacturer does not tend to sit on its laurels. The new generation of the Honda Civic was not necessarily expected and it was not required, but Honda still chose to improve its popular car.
"The new Civic will be, flat out, the most dynamic, the most technologically advanced and the most refined and stylish Civic we've ever made," said Dave Gardner, senior vice president of operations, Honda Canada Inc. "We couldn't be prouder to be the global manufacturing lead for this epic vehicle, and they'll be built by Canadians right here in our renowned Alliston, Ontario facility."
The concept unveiled at the New York International Auto Show was obviously spectacular, but the news that the 2016 Honda Civic will be a redesigned model is also important news. Honda did not show the new model, but the Japanese automaker still claims that the new Civic will be strongly inspired by the car we saw in the Big Apple.
It will be wider and lower, while showcasing an increased wheelbase. The 2016 Honda Civic will also be powered by a new 1.5-liter four-cylinder turbo engine that will be even cheaper than what we find in the current generation of the Civic. Featuring Earth Dreams technology, the engine should be powerful without being too thirsty.
"Charismatic, connected and athletic, our goal was to create a design that is emotional and sporty yet with a sense of timelessness and simplicity," said Guy Melville-Brown, Chief Exterior designer of the Civic concept, Honda R&D Americas, Inc. "In this we set out to create a vehicle that goes beyond the superficial and embraces the very philosophy of what a true Civic should be, a real game changer."
Honda also announced that the next 2016 Honda Civic would be safer with the addition of several driver-assistance technologies included in the Honda Sensing suite. We're talking here about forward collision warning and adaptive cruise control, for starters. Honda LaneWatch technology will also be on the menu, as well as a rearview camera with multiple angles. In terms of passive systems, we obviously find ACE technology for the body structure.
Honda also took advantage of the New York Auto International Show to confirm that the new Civic will be offered in a hatchback version. It will join the sedan, coupe and Si models when the vehicle launches.
The new 2016 Honda Civic goes on sale this fall. For more informations, contact us today at Lallier Honda Montréal!